| Updated:
The contents of the Difference.guru website, such as text, graphics, images, and other material contained on this site ("Content") are for informational purposes only. The Content is not intended to be a substitute for professional medical or legal advice. Always seek the advice of your doctor with any questions you may have regarding your medical condition. Never disregard professional advice or delay in seeking it because of something you have read on this website!
The new era of modern technologies creates flexible tools for business. Owners of start-ups and big companies can find a variety of services and instruments that help them build relationships with partners, find new clients, develop brand awareness, etc. And the wisest decision is to take benefits from such technologies.
Let's talk about transcription and its benefits. It's awesome that you may use transcription services online and reach better results at your business. But before you select the exact transcription company to cooperate with, you need to distinguish the main differences between automated and human transcribers.
Professional transcription: definition and types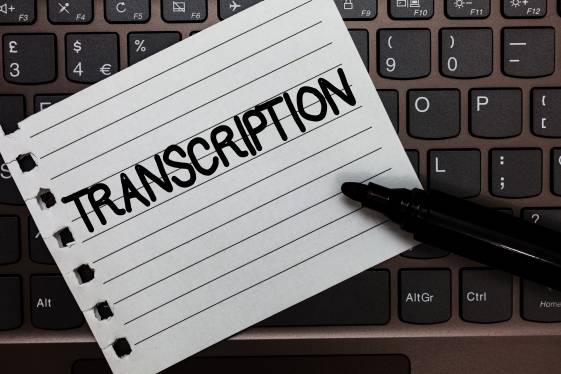 Transcription means a process of converting video or audio content into text format. This is the most convenient, easy-to-use, and versatile type of content for many purposes. It is highly appreciated among students and in different professions. The number of benefits of text transcriptions is spectacular: it saves time and provides a customer with important information of the highest accuracy.
The idea of transcription is based on artificial intelligence. This is an amazing asset that has amazing benefits in multiple areas. But it isn't perfect yet. The main issue of AI is its inability to detect the context of the speech and the nature of many words. At the moment, such a task is a realistic objective only for humans.
But before you start to use all the advantages of transcription for your business needs, you have to choose the proper type of it. There are 2 options:
automated transcription service. This is online software that is based on modern technologies of speech recognition. A robot recognizes the voices and then transcribes the audio content into text. A high-quality transcription website allows to receive content in text format with an accuracy rate of up to 80%;
human transcript service. The general idea is the same as an automated service. The difference is in the doers. Human transcribers are real people who listen to audio and write down text content sentence by sentence. The final result of such a process is high-quality text with the highest accuracy. Many people prefer this type of transcription because of mistakes-free content.
It's also important to mention that these transcription services differ in price. Automated tools usually require a minimal fee depending on the size of your file. At the same time, the assistance of human transcribers costs more money due to better professional skills and final results.
Anyway, people usually wonder what type of transcription services are better for business purposes. If you expect a simple answer, then don't do it. The point is both options have important advantages and tiny negative attributes. The most appropriate choice depends on you and your company's demands. So let's find out more about these transcription options.
The automated approach in transcribing
Using automated software is a fast approach for customers. This is a very easy and effortless way to convert any audio or video file into text format. The main challenge is to select a high-quality website that uses innovative voice-to-text conversion and modern recognition technology. It must include voice and speech techniques to detect every single word as a human brain can.
There are several important requirements to the audio or video file you need to convert into text. It strictly must mention the following statements:
the audio has to be of high quality;
the speakers should speak clearly and have no accent;
background noises are allowed, but only a little portion.
As a result, you can expect professional software to provide you with a high-quality paper with an accuracy of up to 80%. Please note that this is the maximum accuracy level you can get only from cooperation with the best transcribers. If you pick up a team without a good reputation and reviews, you may not be satisfied with the final text.
The human approach in transcribing
When you trust transcribing and subtitling to real people, you prefer a win-win strategy. It means a much reliable result with the highest accuracy rate. And in terms of business needs, this assistance costs every cent you pay for it.
The professional human transcription service works classically: an expert listens to the audio and writes down the text. After processing the whole file, an editor revises the text to correct possible inaccuracies and get rid of misprints.
If you work with reliable experts in transcribing, they'll guarantee you accuracy up to 99%. Also, the requirements for audio quality aren't so strict as for the automated approach.
Nothing can be better than a human brain. It is flexible, experienced, and humane. The quality of the real transcriptionist's job doesn't depend on the quality of audio and background sounds. This approach guarantees more predictable results everyone wants to get.
Final thoughts on human and automated transcription approaches
At the moment, using automated software for transcription is a cheaper solution that is still very efficient. According to the latest statistics, this approach has an approximately 12% of error rate. It's not high at all but compared to human transcription with an error rate of 4% it seems important to highlight this fact. You will save your money but receive 4 times more mistakes on your content.
Let's analyze these findings in the example. If you are a student and require to transcribe a 5-hour lecture into the text to prepare homework, you'll be happy to get automated transcription without wasting much time, money, and effort on it. You don't risk your grades or reputation by selecting this approach. But if you need to prepare content for your corporate blog by converting your CEO speech into the article, you will still have to make very attentive revisions. Do it if you don't want to fall into dust, of course.
As a result, manual transcription may be beneficial to business needs. But you are not obligated to pick up this option. Professional transcription companies provide customers with amazing services and guarantee the required accuracy rate. So choose the option you want. Anyway, you'll receive the advantages of such a decision because you'll save your time and effort on a very annoying job.
(Visited 56 times, 1 visits today)