| Updated:
The contents of the Difference.guru website, such as text, graphics, images, and other material contained on this site ("Content") are for informational purposes only. The Content is not intended to be a substitute for professional medical or legal advice. Always seek the advice of your doctor with any questions you may have regarding your medical condition. Never disregard professional advice or delay in seeking it because of something you have read on this website!
When it comes to the property world, there are so many different terms you need to learn, some of which – confusingly – seem to refer to the same sort of structure or design feature. It can be befuddling and even rather daunting, trying to figure out which term belongs to which architectural feature.
For example, the words 'patio', 'terrace', 'deck', and 'balcony' all appear to refer to very similar structures. But what's the real difference between a balcony and terrace and which does your property have – or which would you like it to have, if you're in the process of planning a new build?
Both terraces and balconies have their unique selling points, so if you're keen to learn how to recognize them – and how to style yours up, if you have one – read on for a crash course on these popular architectural structures.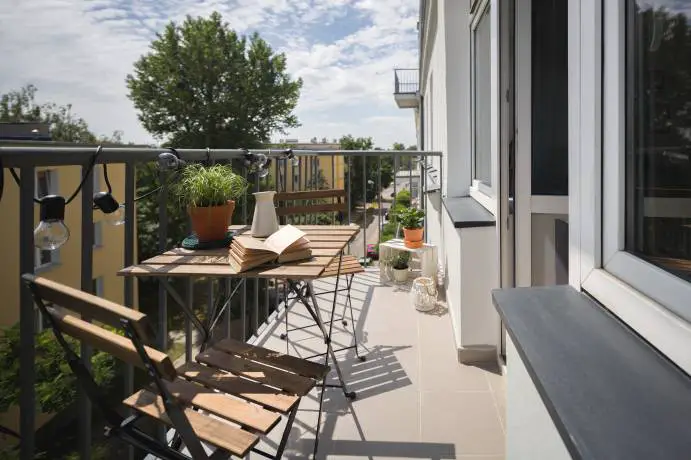 What Is A Balcony?
In its simplest terms, a balcony can be described as a small elevated outdoor space – or platform – that can be accessed through a particular room in a house or apartment.
Balconies are also a common feature of hotel rooms, providing a charming little outside space where guests can refresh themselves and enjoy the view.
What Is A Terrace?
A terrace is an open outdoor area that can either be built as an extension of a building or as a separate alfresco space. Both ground-floor and rooftop terraces are a popular feature of many homes and hotel buildings as they provide a spacious area for entertaining and relaxation in good weather.
How Do Balconies And Terraces Differ?
The main differences between balconies and terraces lie in their size and construction.
For instance, balconies are always built on higher floors, while terraces are generally on the ground level – unless they're on the roof, of course! Balconies are also, by necessity, attached to a building, while terraces can be detached. Unlike patios, however, terraces are slightly raised up from the earth around them.
Last but not least, balconies tend to be much smaller than terraces, so if you were throwing a party for a number of guests you would opt to entertain them on the terrace rather than in the more cramped quarters of a balcony.
The Pros And Cons Of A Balcony
If you're considering moving into a property with a balcony – or pondering adding a balcony to your existing home – then you may be keen to discover the advantages and disadvantages of this type of architectural feature.
The Benefits
Perhaps the biggest advantage of a balcony is that they provide some outdoor space for you to enjoy, which can be a real blessing if you live in an apartment with no garden. You can even transform your balcony into a 'floating garden' with pots and tubs of flowers, succulents, herbs, and perhaps even some small fruit and vegetable plants.
Another advantage of balconies is that they provide you with a certain degree of privacy as they cannot be overlooked. This is something to think about if you want a secluded outdoor space where you and your significant other can enjoy romantic meals or cocktails with a view.
The Disadvantages
The main downside of a balcony is, as we have already mentioned, the amount of space. Balconies can sometimes be very poky, providing little room to move around or to keep any outdoor furniture.
Balconies can also pose a real safety hazard if you have young children, so bear this in mind if you have any little ones.
The Pros And Cons Of A Terrace
Does your home have a spacious terrace, or are you considering having one built? If so, here are some helpful pros and cons of a terrace, to help you decide whether it's right for you.
The Benefits
On the plus side, a terrace allows you to enjoy plenty of outdoor relaxation and socializing. You can set up an outdoor bistro dining set for alfresco meals in the sunshine or by starlight, and add outdoor sofas and benches where you can entertain on special occasions.
Terraces also lend themselves to all kinds of pleasing decorations and modifications, from fire pits and water features to the possibility of having an outdoor bar.
The Disadvantages
Of course, nothing can be perfect, and the obvious disadvantage of a terrace – particularly if you live in the UK – is that it is open to the elements. This means that rain, wind, snow, and hail can prevent you from enjoying your alfresco space.
Styling Your Balcony Or Terrace
Whether you have ended up with a balcony or a terrace as part of your property, there are ways to style up your outdoor area to maximize its appeal and convenience.
For example, if you're looking for a simple but effective strategy to shade your balcony or terrace – or patio, for that matter – from the blazing summer sunshine (and from insects) you can opt for retractable screens. These high-quality retractable screens from Marygrove Awnings will shield you and your outdoor furnishings from harsh UV rays and keep away spiders and other undesirable creepy crawlies.
As we have already mentioned, plants are another way to effortlessly transform a balcony or terrace into your own miniature jungle or forest dell. You can even grow an assortment of edible plants, no matter how small your outdoor space may be.
Last but not least, special additions such as artful lighting, a water feature – whether dainty or large – and a colorful outdoor rug can easily jazz up any alfresco area, no matter if it's a terrace or balcony.
Now You Know The Difference!
As you can see, there are some significant differences between a balcony and a terrace, and each feature comes with its own unique set of pros and cons. However, with a little love and attention and some innovative additions, you can transform your own balcony or terrace into a magical outdoor sanctuary where you and your loved ones can enjoy making many wonderful memories to cherish in times to come.
(Visited 308 times, 1 visits today)