| Updated:
The contents of the Difference.guru website, such as text, graphics, images, and other material contained on this site ("Content") are for informational purposes only. The Content is not intended to be a substitute for professional medical or legal advice. Always seek the advice of your doctor with any questions you may have regarding your medical condition. Never disregard professional advice or delay in seeking it because of something you have read on this website!
Everything evolves over time, and so is the house designs.
If you talk particularly about the kitchen, it is a place that gets changed with new options and new styles.
People are always in a rush and want to get everything done in a jiffy. So here is an easy way to conduct your kitchen chores that would make your life easy.
You can divide your kitchen into two integral parts.
Dirty Kitchen
Main Kitchen
You don't have to confuse yourself. To learn more about these two differences, read this till the end!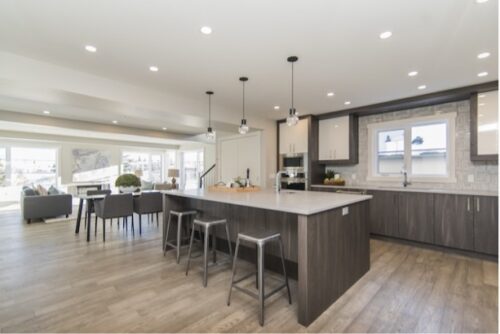 1. Dirty Kitchen
A dirty kitchen refers to a place where you have a stove, and this portion is utilized for cooking purposes.
While cooking, the kitchen gets messy.
For example, you make a recipe that has various ingredients. It is obvious that you are supposed to use all of them, and, eventually, the remaining ingredients will mess up your place, wrappers, and other stuff.
So being a separate place will allow you to work freely with taking much care as you cook food.
Also, if anything spills out, it will not make other things dirty. So you can easily keep your expansive belongings safe. Moreover, the smoke that comes while cooking can be very disturbing for the people who are cooking food. A separate dirty kitchen will allow you to arrange extra ventilation options so that the smoke doesn't harm you.
You should also put a separate garbage can in the kitchen near your cooking area. It will be a technique to keep the other parts of your house free from bad odor.
Sometimes people get a bit lazy or don't have time to clean the kitchen every day, so keeping the garbage in a separate place won't harm them. Also, the hygiene will remain intact, and your kitchen will look clean for longer durations.
If you talk about storage, you can keep oversized utensils there. It can save a lot of space in the main kitchen and cabinets.
You may also keep dry veggies there, like onions, garlic, etc. So not only from a cooking perspective but from a storage aspect dirty kitchen can be very useful.
As the weather shifts toward summer, you will realize how crucial a dirty kitchen is. As the cooking will be done separately, the heat produced while cooking won't impact the other persons sitting at the dining table.
For your convenience, you may also install a sink in this portion of the kitchen. It will allow you to clean the utensils and ensure that other parts aren't affected by this. In addition, keeping it away from other things helps you to keep it organized.
For example, as you have dedicated space for everything while washing dishes, it allows you to keep sponge in the kitchen nicely and will allow you to have direct access.
2. Main Kitchen
The heart of the house is undoubtedly the kitchen. It's where everyone congregates to spend time with one another over a satisfying dinner, including family and friends. When you build a house, you have a place set, that includes the things related to get rid of your hunger. Usually, people also set up their dining table, oven, refrigerator, etc., in the main kitchen.
The main kitchen is one of the most important places when you try to make your house look attractive. When you have the space and liberty to separate the dirty kitchen, it gives you the freedom to make the main kitchen look attractive.
You also won't have the headache of cleaning it daily, as only the dining table might need some cleaning. Other than that, this place will remain in good shape.
You can also have the liberty to decorate your kitchen the way you want, as there won't be anything affecting your setting. While you cook your food separately, your kitchen will remain in its original condition.
The movement also doesn't compromise as you have the liberty to move around freely due to the available space.
You can add some artwork to the kitchen and make it look more attractive. Then, when family or friends come to this place, they will find it more vibrant and make them sit over the dining table and have different conversations at this place.
You may also add small plants to the main kitchen as there won't be any heat at this place so they can survive perfectly and provide a complete look.
Conclusion
Having separate kitchens is needed for every house. In addition, it helps you to avoid clutter.
It gives you a lot of benefits related to hygiene, kichen chores, and mainly cooking. Therefore, if you get a chance to execute your house setting in such a manner, your life will become much more manageable.
(Visited 525 times, 1 visits today)