| Updated:
The contents of the Difference.guru website, such as text, graphics, images, and other material contained on this site ("Content") are for informational purposes only. The Content is not intended to be a substitute for professional medical or legal advice. Always seek the advice of your doctor with any questions you may have regarding your medical condition. Never disregard professional advice or delay in seeking it because of something you have read on this website!
Ajwain is a seed-like fruit that is often used in Indian cooking to spice up spice mixtures. It resembles fennel and cumin seeds, but it is very fragrant and smells like thyme. The flavor of it is more bitter than that of oregano and anise, and the bitter notes and the strong flavor are more prevalent.
| | |
| --- | --- |
| Ajwain | Jeera |
| Also called carom. | Also called cumin. |
| Is thought to have originated in Persia (Iran). | Is thought to have originated in Egypt. |
| It has a strong flavor. | It has a warm and earthy flavor, with sweetness and bitterness mixed. |
| Only used in small amounts. | The whole seeds are usually used to make the flavor stronger. |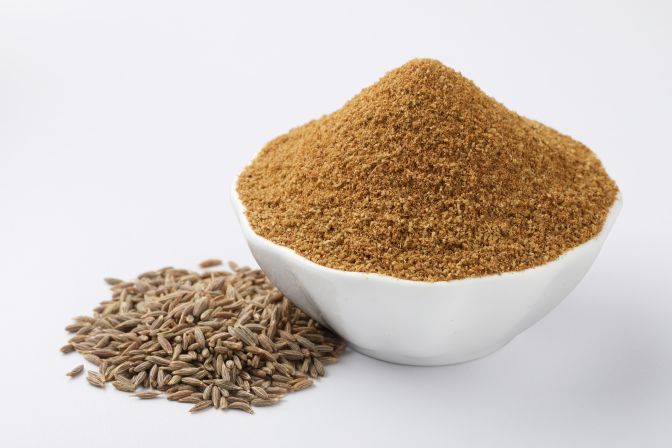 Ajwain, which is grown in India and Iran, is also known as carom seeds or Bishop's weed. When eaten raw, it is usually cooked, and then it is added to a recipe. The product is sold in both seed and powder form, although people commonly prepare it by cooking with the seeds.
One of the descendants of Ajwain is thought to have originated in Persia, which is now Iran, and Asia Minor (which is now Turkey). They spread to India, and they are now grown in the Middle East and North Africa regions.
Ajwain has a strong and persistent flavor. It is used in small quantities and is almost always cooked. In Indian cooking, the spices are often included in the tadka. In a traditional cooking method, we add oil or butter (which is often ghee) and spices and fry them in a pot to make a hot pot.
The seed for Ajwain can be purchased in Indian food markets and spice shops, and online. This food is most often sold in the form of seeds, so if you find some powder, pass it on, because the flavor will have diminished.
Jeera or Cumin is a spice made from the dried seeds of a plant called cuminum cyminum. The most common kind of cumin that people see is brownish-yellow, but you can also find black cumin, green cumin, and white cumin.
Whole seeds are used to make Indian meals and jeera, and ground cumin is used in Mexican and middle eastern dishes, as well as chili, barbecue sauce, baked beans, soups, and marinades.
The people of India and the Greeks and Romans have used cumin a lot. It originated in Egypt, but now has spreaded from Mexico to South America after the Spanish and Portuguese landed here and brought food from Europe.
Some people use whole cumin in Indian dishes. The seeds are rolled in hot oil before the dish begins, so that the flavor infuses the oil with the rest of the dish. When the seeds are lightly roasted, you can enjoy the flavor by heating them in a dry pan over medium heat.
The flavor of cumin is warm and earthy. There is a bit of sweetness mixed with a bit of bitterness. All the whole seeds should be toasted in order to have the best flavor.
(Visited 1,353 times, 6 visits today)