| Updated:
The contents of the Difference.guru website, such as text, graphics, images, and other material contained on this site ("Content") are for informational purposes only. The Content is not intended to be a substitute for professional medical or legal advice. Always seek the advice of your doctor with any questions you may have regarding your medical condition. Never disregard professional advice or delay in seeking it because of something you have read on this website!
Homeowners in Pueblo West, CO, have the advantage of living in a gorgeous state and a unique region of the United States. 300 days of sunshine each year, along with plenty of walking trails, a large pond, and a thriving community, make it one of the most sensible places to live in Colorado.
When you own a home in this area, taking advantage of the great outdoors is a necessity to make the most of your living experience. That is why investing in your outdoor space should be a common practice.
However, there is a difference between an outdoor living space and the rest of the yard on your property. Let's talk about the differences between the two and how you can make both improve your experience of the great outdoors in Pueblo West, CO.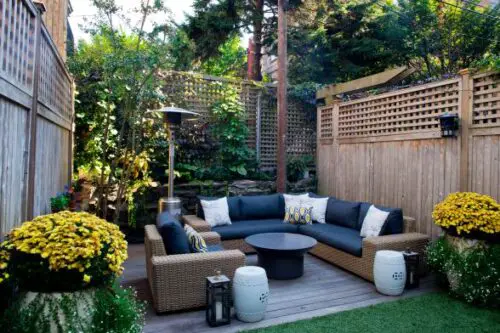 The Function of an Outdoor Living Space
Adding outdoor living spaces is a popular home improvement trend for property owners. However, it could also apply to commercial properties. Essentially, this concept is defined as an extension of the indoor home lifestyle into the outdoors. This is why a yard in and of itself is not generally considered an outdoor environment. The things that you do in a yard are usually very different from what you do inside.
An outdoor living space typically consists of a built structure. It could be made from wood, stone, metal, concrete, or other building materials. It is also generally focused on a specific feature that would also make sense indoors. There may be an outdoor kitchen, a bar, a dining table with chairs, or even a fireplace that the structure is built around. There is also an obvious border to the outdoor living space where it ends, and the yard begins.
The Function of a Yard
A yard covers a much broader swath of the overall property. Essentially, it includes all the outdoor components that are not attached to the house. That includes gardens, the grass lawn, trees, plants, pathways, and other decorative elements. While the yard can be used for various activities like games, playing, or relaxing in the sun, it is not technically an extension of the indoors, and it does not focus on one specific indoor feature.
Though outdoor living spaces are often attached to the house in the form of a deck or patio, they can also be placed in the middle of the yard.
Outdoor Living Space Features
The elements that you will find in an outdoor living space are different from those that you typically find in the yard, though there is going to be some overlap. Typically, this space will feature a foundation of some sort like wood, concrete, or stone. There could also be other constructed components such as Cedarshed outdoor structures like pergolas or pavilions over the space.
Within the structure could be any number of amenities. Outdoor furniture that creates a space for relaxing is a popular choice. A brick oven could be the perfect spot for hosts to cook up homemade pizzas for guests. A bar with several stools can make serving drinks an outdoor activity. Some living spaces even feature televisions or other entertainment amenities. Lighting is also important, and string lights are common for outdoor living spaces to be usable in the evenings.
Yard Features
A yard, on the other hand, has other elements that are probably not contained within an outdoor living space. You could shop for storage sheds for sale to place in your yard and store your lawn equipment or outdoor toys. A garden is also considered a feature of the yard, though it could border an outdoor living space. The grass itself, any landscaping features, and pathways are also components of the yard, along with any trees or bushes.
This is separate from potential decorative elements in the outdoor living space, such as potted plants or climbing vines on a lattice wall. Decorations for the yard may be placed all over the property. They could include solar lights, sculptures, water fountains, and other landscaping features. A yard is also open for play, so it could contain playsets and lawn games as well.
Beautiful Properties Invest in Both Outdoor Living Spaces and Lawns
If you want to maximize curb appeal and functionality for your home in Pueblo West, then improving both the yard and the outdoor living space is essential. The living space will allow you to extend the interior amenities into the outside, helping you fully enjoy the beautiful weather of Colorado. At the same time, a well-maintained lawn with beautiful landscaping work can be the perfect place for children to play or for adults to socialize when you have guests over. Put time and money into improving both aspects so that your property is the highlight of the neighborhood.
(Visited 20 times, 1 visits today)