| Updated:
The contents of the Difference.guru website, such as text, graphics, images, and other material contained on this site ("Content") are for informational purposes only. The Content is not intended to be a substitute for professional medical or legal advice. Always seek the advice of your doctor with any questions you may have regarding your medical condition. Never disregard professional advice or delay in seeking it because of something you have read on this website!
Women's tops are an essential and versatile component of every wardrobe, offering endless possibilities for creating stylish and personalized outfits. They present an intriguing realm of fashion, encompassing a diverse range of options, from relaxed t-shirts to elegant blouses. This vast assortment includes designs, fabrics, and decorative elements that cater to various preferences, occasions, and body shapes.
Whether seeking a fashion-forward standout, an everyday essential that exudes comfort, or an exquisite ensemble for a noteworthy affair, women's tops provide boundless opportunities for self-expression and artistic styling. Serving as a pivotal element in creating trendsetting outfits, they can effortlessly revitalize any ensemble, thus becoming an essential choice for individuals with an acute sense of style.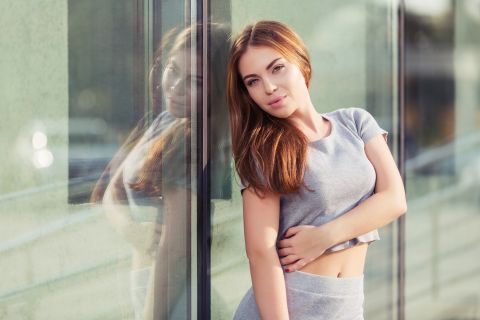 Silhouettes and Cuts
Women's tops come in various silhouettes and cuts, catering to different style preferences and body types. Fitted tops offer a streamlined, figure-hugging look, accentuating the wearer's curves. On the other hand, oversized tops provide a relaxed and comfortable fit, allowing for easy movement and a casual vibe.
There are also options such as A-line tops, which gradually flare out from the bust, creating a flattering silhouette. Exploring the variety of profiles and cuts in women's tops helps you find the perfect style that complements your body shape and personal aesthetic.
Necklines and Collars
Necklines and collars define the overall style and aesthetic of women's tops. V-neck tops create a flattering and elongating effect, drawing attention to the neckline and decolletage. With their rounded neckline, crew neck tops offer a classic and versatile option for various occasions.
Other neckline options include a scoop neck, boat neck, square neck, and off-the-shoulder, each bringing a unique touch to the top's design. Collar styles, such as the Peter Pan or Mandarin collar, add a vintage or formal element to the top. Exploring the variety of necklines and collar styles helps you choose tops that suit your style and enhance your features.
Sleeve Styles
The sleeves of women's tops can dramatically impact the overall look and feel of the garment. Cap sleeves, which cover only the top part of the shoulder, provide a delicate and feminine touch. Flutter sleeves, with their soft and flowing design, add a romantic and whimsical element to tops.
Bell sleeves, characterized by their flared shape from the elbow, bring a retro or bohemian vibe to the outfit. Other sleeve styles include short, long, three-quarter, and sleeveless options. Comparing and contrasting different sleeve styles helps you choose tops that suit your desired level of coverage, style preferences, and occasion.
Prints and Patterns
These can transform the appearance of women's tops, making them stand out and reflect personal style. Floral prints offer a timeless and feminine look, ranging from delicate blooms to bold botanicals. Whether horizontal, vertical, or diagonal, stripes create a classic and versatile aesthetic, suitable for casual and formal occasions.
Animal prints, such as leopard or snakeskin, give tops a sense of boldness and personality. Other popular patterns include polka dots, geometric designs, paisley, and abstract prints. Highlighting the differences in prints and patterns helps you express your individuality and find tops that resonate with your style preferences.
Fabric Choices
The material used in women's tops affects their comfort, drape, and overall aesthetic. Cotton tops are breathable, soft, and suitable for everyday wear. They come in various weights, including lightweight options for warmer weather and thicker options for cooler temperatures. Silk tops are luxurious and lustrous, offering a smooth and delicate feel against the skin. They are for more formal occasions or when you desire a touch of elegance.
Polyester tops are known for their durability, wrinkle resistance, and ease of care. They come in a wide range of textures and can mimic the look of natural fibers. Exploring the different fabric choices allows you to consider comfort, breathability, maintenance, and occasion when selecting your tops.
Embellishments and Details
These can add a touch of glamour, texture, or visual interest to women's tops. Embroidery, whether delicate floral motifs or intricate patterns, adds a charming and artisanal element to tops. Sequins and beading bring sparkle and shine, perfect for festive occasions or evening wear.
Lace detailing offers a romantic and feminine touch, often found on sleeves, necklines, or as overlays on tops. Other embellishments and details may include ruffles, pleats, cut-outs, bows, or decorative buttons. Examining the various decorations and details allows you to choose tops that align with your desired sophistication, style, and occasion.
Lengths
The length of a top can significantly impact its styling options and suitability for different outfits. Crop tops end above the waist, offering a trendy and youthful look, often paired with high-waisted bottoms. Regular-length tops typically hit around the hip bone, providing a versatile option suitable for various bottoms, including jeans, skirts, or trousers.
Tunic tops are longer, often reaching mid-thigh or below, offering extended coverage and the option to wear them as standalone dresses or paired with leggings. Exploring the different lengths of women's tops helps you pick the best style for your body shape, desired level of coverage, and season.
Occasion-Specific Tops
Women's tops cater to different occasions, and their design elements vary accordingly. Casual tops offer comfort and versatility, suitable for everyday wear or relaxed social outings. They may feature playful prints, comfortable fits, or breathable fabrics. Dressy tops feature elegant cuts, refined materials, and understated embellishments for more sophisticated events. They often pair well with skirts or tailored trousers.
Evening tops make a statement with luxurious fabrics, intricate detailing, and flattering silhouettes. They are perfect for special occasions or formal events. Differentiating women's tops based on occasion allows you to curate your wardrobe effectively, ensuring you have the appropriate options for various events and engagements.
Layering Potential
Layering adds depth and versatility to outfits, allowing women to create various looks by combining different pieces. Tank tops and camisoles are excellent base layers, providing a smooth and comfortable foundation for additional layers. Pair them with cardigans, blazers, or jackets to add warmth or style to an ensemble.
Cardigans, in particular, offer a lightweight layering option, often worn open to showcase the top underneath. Exploring the layering potential of women's tops enables you to experiment with combinations, textures, and proportions, creating stylish and weather-appropriate outfits.
Brand Comparison
Women's top brands vary in quality, style offerings, and fit consistency. Analyzing and comparing different brands helps you understand the strengths and reputations of each, ensuring you invest in tops that align with your expectations.
Factors to consider include sustainable practices, attention to detail, size inclusivity, and customer reviews. Conducting a brand comparison allows you to make informed choices, finding reliable brands that consistently deliver high-quality tops that suit your style preferences and body shape.
Conclusion
Women's tops are versatile and essential pieces that form the foundation of any fashionable wardrobe. With a plethora of styles, fabrics, and details, a women's top suits every taste, occasion, and body shape. Whether it's a classic blouse for the office, a casual t-shirt for everyday use, or a glamorous evening top for special events, these garments offer endless possibilities for expressing personal style.
From trendy prints and patterns to timeless silhouettes, you can easily pair them with various bottoms and layered with jackets or sweaters to create stylish and individualized outfits. With their ability to transition from day to night, women's tops are a go-to choice for versatile and fashionable ensembles.
By choosing quality brands and understanding different styles, you can curate a collection of tops that reflect your unique personality and elevate your overall look. Ultimately, women's tops empower you to feel confident, comfortable, and stylish in any setting or occasion.
(Visited 47 times, 1 visits today)