| Updated:
The contents of the Difference.guru website, such as text, graphics, images, and other material contained on this site ("Content") are for informational purposes only. The Content is not intended to be a substitute for professional medical or legal advice. Always seek the advice of your doctor with any questions you may have regarding your medical condition. Never disregard professional advice or delay in seeking it because of something you have read on this website!
We cannot naysay the fact that car maintenance is important for its longevity and smooth driving. People who do not possess sound knowledge regarding the car's parts and their functionality usually fail to do small repairing chores. Moreover, whenever their car causes an issue, they have to take it to the service station.
It can prove great if you know some repairing tricks because they will save you money and time. However, it is crucial to know the difference between DIY and professional repairing and here, in this blog, we have unveiled the facts.
Why go for DIY?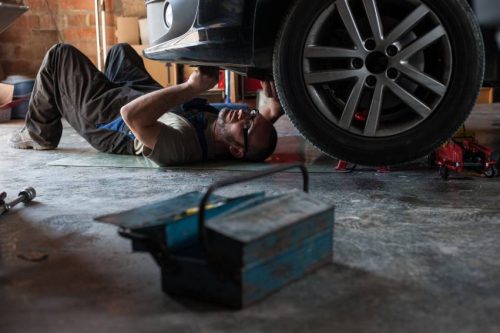 This is an important question to ask yourself when you plan to learn DIY tips. Here, we have unveiled some facts that will let you know the importance of DIY. So, let's explore the details:
YouTube Tutorials can make you a Pro
YouTube tutorials are quite helpful in this regard as you can simply watch the process of tire changing, engine repairing, complete parts of a car, and other details. These videos are available for free and you can pause them to watch the process multiple times.
Most beginner mechanics learn basic repairing tricks by watching these tutorials and this is a reason, you too should rely on it.
You can watch tutorials specifically on your car's model to get it repaired yourself. The best way is to apply the details mentioned in the video because this will help you learn better.
Repair Manuals can prove Helpful
Another useful way of learning DIY is to rely on the Ford factory repair manual as if you have the same model of the car. These manuals contain detailed information about all parts in the car and you would be able to learn the repairing method quite easily as there won't be any sort of hurdle.
These manuals are usually written in an easy-to-understand language so you simply need to open the manual for following the instructions. It will help you get the car repaired especially if the faults do not require the use of heavy equipment.
DIY Saves Time and Cost
Are you aware of the fact that the DIY approach will save you time and cost? You won't have to take the car to the service station as you can repair it at home. Mechanics at service stations charge a high fee for this purpose and once you do it yourself, you won't have to wait for your turn to get the car serviced in the service station. So, isn't it better to get a manual and learn about repairing tips for your car? You will surely enjoy the repairing process.
You won't have to stay Stranded on the Road
Once you get adept at repairing the vehicle, it will be easy to fix the faults even if the car stops in the middle of the road. However, make sure to keep mandatory tools in the car because, without them, you won't be able to repair the car. Get a toolbox and fill it with all the necessary tools.
People who know nothing about car maintenance usually stay stranded on the road while waiting for help. In short, it is crucial to be aware of basic repairing tips.
Why go for a Professional Service?
People usually ask this question a lot if a person is a pro at car repairing then why he should rely on a professional service. So, below, we have listed some facts:
Professionals Fix the Problem from its Roots
It is a fact that professional mechanics repair car faults based on their experience and this is a reason, they do not rely on temporary solutions and fix the problem from its roots. It means that the same issue will not appear again if it is fixed well.
Professional Mechanics Suggest Best Spare Parts
There might be new spare parts needed for the repairing purpose and it is important to buy the ones with exceptional quality. Professional persons are not only aware of the use of these spare parts but they can suggest to you the best ones. You should simply trust the services of mechanics however make sure that they do not install used parts because they will not last for a long time.
They can Fix Major Faults Efficiently
Professional mechanics can fix major faults that cannot be done at home. Service stations are usually equipped with mandatory tools and machinery so major faults can be fixed only after taking the car to the service station.
You should rely on a well-reputed service station where mechanics serve in the best way and do not charge unnecessarily for their services. In short, these few facts are important to ponder for understanding the difference between DIY and professional repairing of luxurious cars. 
(Visited 75 times, 1 visits today)