| Updated:
The contents of the Difference.guru website, such as text, graphics, images, and other material contained on this site ("Content") are for informational purposes only. The Content is not intended to be a substitute for professional medical or legal advice. Always seek the advice of your doctor with any questions you may have regarding your medical condition. Never disregard professional advice or delay in seeking it because of something you have read on this website!
The difference between HR and recruitment functions is often a source of confusion for many business leaders. As a result, some organizations use these terms interchangeably. But make no mistake; they are different areas that require specific expertise.
Of course, some nuances are noted with simple logic. For instance, many understand that a recruitment specialist might not be the best choice to handle their HR function. But can you still get your HR specialist to take care of recruitment? To answer this question, let's take a closer look at what HR and recruitment functions entail.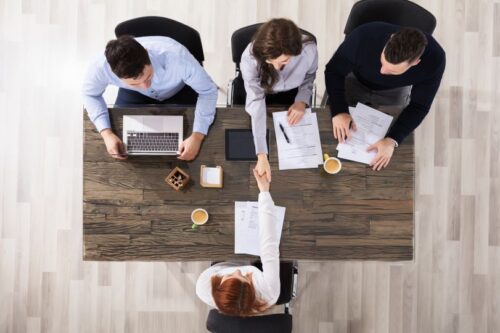 What Is HR?
HR is a broad function that typically includes:
Onboarding employees.
Identifying training needs and facilitating training programs.
Creating employee engagement and R&R programs and initiatives.
Developing HR processes and systems.
Employee retention.
Payroll administration.
Human resource compliance and risk management.
Clearly, this is a significant amount of work for a single person to handle. In larger organizations, you will find separate teams for payroll, employee onboarding, training, and other critical areas. These staff will specialize in their roles and report to the HR department head.
However, in smaller organizations, it is common to find a single employee taking care of the entire HR function. Of course, this doesn't mean they will have deep expertise in all HR activities. They are typically HR generalists with a broader knowledge of the HR function. This enables them to advise the management on HR-related matters. They often outsource highly specialized activities, such as payroll management, or rely on a software tool with part-time or occasional external support.
However, even larger businesses can outsource specialized HR functions to third-party service providers. For example, they could hire a few HR generalists and outsource the payroll, employee training, and administrative functions. This is a popular strategy adopted by large-scale companies to minimize cost and improve overall efficiency by adopting a leaner organizational structure.
Today, there is a range of third-party HR service providers catering to unique and general business needs. Some specialize in specific tasks, like compensation, taxes, and regulation. Others will take over several functions simultaneously, from onboarding to offboarding employees. There are even HR outsourcing businesses specializing in small business needs and industry-specific requirements.
HR systems could also help simplify an HR manager's role. They are particularly beneficial for businesses looking to keep a low HR headcount and benefit from automated workflows and streamlined systems. These cutting-edge systems can bring together all HR tools and databases into a single platform and provide in-depth data insights to make informed decisions.
What Is Recruitment?
In simple terms, recruitment involves the entire hiring process, from finding candidates to confirming the hire.
Here are the main tasks assigned to a recruitment specialist:
Defining the job role, tasks, and responsibilities with the hiring manager. This also includes specifying special work requirements. For example, does the candidate need to work during weekends, evenings, or early morning hours? Will they need to travel or work off-site?
Identifying skills, knowledge, and experience requirements.
Sourcing potential candidates.
Reviewing and vetting resumes.
Conducting interviews and screening candidates based on role-specific and business-specific criteria. It also includes facilitating screening tests and interviews for the management.
Drafting offers together with the hiring manager.
Coordinating communication between the candidates and management until the hire is confirmed.
Recruitment experts possess unique expertise in these areas that allows them to find and hire the best talent in the market.
Once a business manager conveys the requirements, the recruitment specialist will determine the best sourcing strategies for the role. For example, they may use headhunting to fill a senior role and opt for job fairs and advertising for a junior position.
The recruitment expert is also responsible for updating the management about hiring trends and other job market information. This can include competitive salary ranges and hiring trends of competitor businesses.
In large organizations, the recruitment function will consist of a separate unit with several hiring specialists. This type of setup adds value when hiring needs are significant and regular. It also allows the organization to ensure salient points, such as a candidate's cultural fit. Businesses in the retail sector and manufacturing will particularly favor this model.
However, small businesses or those with limited recruitment needs may prefer not to hire a full-time specialist. They could instead reach out to a recruitment agency to source candidates. But keep in mind that these recruitment services come at a cost. Finding local industry-specific professionals on Leadar would be a more cost-effective option for businesses with tight budgets.
The Difference Between HR and Recruitment
To summarize, HR is a broader function, whereas recruitment has a narrower focus.
A recruitment expert oversees the complete hiring process, from sourcing candidates to confirming the offer. An HR generalist will take over from there, starting with employee onboarding.
Typically, the recruitment expert will report to the head of HR. This is because recruitment is considered part of the overall HR function. However, smaller organizations may only have an HR manager, who will be responsible for the entire human resource management process, including recruitment.
Today, it is also common for both small and large businesses to outsource their recruitment function to achieve the efficiencies of leaner business models.
A Final Thought
Hiring professionals for each function will not be possible for a small business or startup working with limited budgets. In such instances, you would often expect your employees to multitask and take on additional responsibilities in areas related to their expertise.
However, employees might not always deliver those added tasks up to your expectations. The problem is each role requires a unique set of skills and knowledge. Understanding this is essential to manage your expectations and seek external support when needed.
Distinguishing between HR and recruitment roles is a good case in point. Each involves different tasks and functions requiring specific skills, knowledge, and experience.
If you are limited by budgets and do not need a large team, hiring an HR generalist would be your best option. Consider an external recruitment consultant or agency for your hiring needs.
(Visited 25 times, 1 visits today)