| Updated:
The contents of the Difference.guru website, such as text, graphics, images, and other material contained on this site ("Content") are for informational purposes only. The Content is not intended to be a substitute for professional medical or legal advice. Always seek the advice of your doctor with any questions you may have regarding your medical condition. Never disregard professional advice or delay in seeking it because of something you have read on this website!
When planning a coastal family vacation in Spain, many travelers can't decide on where to go – Malaga or Alicante. Yes, both destinations feature warm weather, sunny beaches, and a perfect selection of family-friendly hotels. Also, they are rich in cultural and historical sights hidden in the old quarters. And in general, the lists of kid-friendly activities in Malaga and Alicante are similar, which makes the choice even more difficult. 
Fortunately, we know the way to the right decision. You need to compare these destinations in order to find the best option. So, check out the main differences between Malaga and Alicante by key travel parameters below.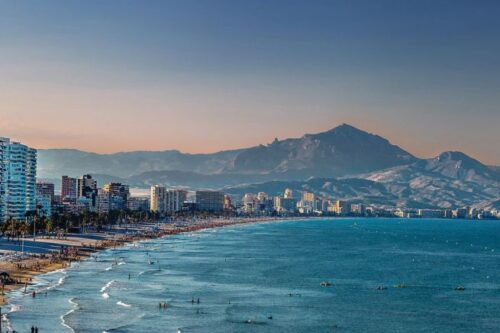 Beaches and coast 
In Alicante, you can find predominantly wide beaches with clean golden sand. They have all the necessary amenities for a good rest, including sun loungers, umbrellas, toilets, changing cabins, beach bars, and cafes. Pebbly beaches are rare and can be found mainly in small bays in the vicinity. 
The beaches of Alicante have smooth entrances and not much depth near the coast. This makes them excellent for families with small children. When it comes to the beaches in Malaga, they look much darker because of the grey volcanic sand. Most beach areas have sun loungers and umbrellas for rent, showers, changing cabins, toilets, playgrounds, cafes, and parking lots. The only disadvantage of local beaches is the dirt brought from the nearby seaport. 
The gentle sandy entrance to the sea and the absence of waves are perfect for families with children. However, sometimes the water even in July can become cold for a couple of days due to the nearby Strait of Gibraltar bringing cold currents.
Transport options 
Both Alicante and Malaga feature an extensive public transport network with metro, buses, and trains. Therefore, you won't have problems with moving around these cities. However, it's about ease of movement. Alicante is spread over a smaller area and concentrates the sights in one place, making them easy to explore on foot. 
Malaga is a completely different matter. The city covers a larger area, so travellers may hire a family car. Malaga Airport is the best place to collect your auto and hit the road. A cheap car hire in Malaga provides a budget-friendly and comfortable way for getting around. Though, you can also benefit from a car in Alicante if you want to visit attractions outside of the city.
The cost of living 
Prices in Alicante are quite consistent with the European level of service. Renting a sun lounger is quite cheap – €1-2 per day. Lunch in a cafe or restaurant costs an average of €20-40 for two, while excursions start from €20 per person. A double room in a 2-3-star hotel will cost €30-60 per night. In a 4-star hotel, you will pay up to €100-120 per night for the same lodging option. 
If you're going to Malaga, expect a slightly higher cost of living. A night in a 2-3-star hotel will cost €40-70 for two, and in a high-quality 4-star hotel is €100-150. Dining in an ordinary cafe costs approximately €30-50, or €60-100 if we are talking about a prestigious restaurant. 
On average, housing in Alicante is 16% cheaper and food is 10% cheaper. At the same time, local entertainment is 30% more expensive.
Travel popularity 
Alicante is the centre of the province of the same name on the Mediterranean coast of Spain. The city is home to just over 300,000 people. It may sound strange, but despite the perfect travel conditions, cozy atmosphere, outstanding shopping, and beautiful beaches, Alicante has an average tourist flow. However, this is another advantage of the resort – you don't need to look for a sun lounger or stand in a long line at the restaurant. 
In opposition, the port city of Malaga is the populous capital of the Costa del Sol, with nearly 600,000 locals living there. The resort ranks fourth in Spain in terms of tourist attendance. Malaga is not only a port gate on the Costa del Sol, but also a cultural and beach centre of Spain. During the high season, the city is noisy and crowded, especially around the beaches and attractions. Thus, families who are used to a quieter holiday may prefer Alicante.
Family-friendly sights 
Let's start with theme parks for families. Alicante features options such as Terra Mítica, DinoPark, Río Safari, and Mundomar. The best local water parks include Aqualandia, Aquopolis, and Aqua Natura. 
In Malaga, you'll be happy to spend time at the famous Tivoli World, Crocodile Park, and Selwo Adventure Park. Multiple water parks are also at your disposal. As for the rest of the attractions, Malaga has more historical spots. At the same time, Alicante is a younger city that combines ancient and modern sights.
Malaga or Alicante? Our verdict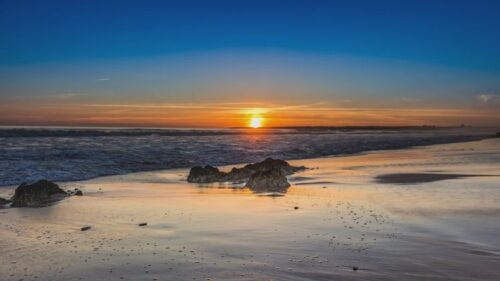 Both Alicante and Malaga are equally suitable for traveling with children. The existing infrastructure and beaches are focused on kids and create comfortable conditions for a family holiday. The only significant difference between these destinations is the level of tourist traffic. Alicante is less crowded in this regard and will satisfy those looking for a quieter vacation.
(Visited 53 times, 1 visits today)