| Updated:
The contents of the Difference.guru website, such as text, graphics, images, and other material contained on this site ("Content") are for informational purposes only. The Content is not intended to be a substitute for professional medical or legal advice. Always seek the advice of your doctor with any questions you may have regarding your medical condition. Never disregard professional advice or delay in seeking it because of something you have read on this website!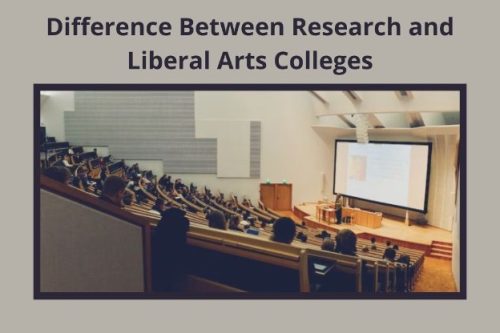 Choosing between research and liberal arts college is a decision you'll have to make once you decide to further your education and get a college degree. It's essential to know the difference between the two — the settings, activities, scope of teaching, and other necessary information. This will enable you to make the best decision that suits your career projection. 
If you choose to go to a research college, expect things like writing term papers, having situations when you need to buy research paper online due to the heavy workload, and buying other materials to aid learning. However, you may not need this in a liberal arts college. The differences between the two are far more extensive, and we cover them in detail in this article. 
Research Universities Vs. Liberal Arts Colleges: A Close Look At Both Academic Institutions 
The major differences between research and liberal arts colleges are their distinct characteristics. Intending college students should know these characteristics before deciding on where to enroll. Here, we look at both academic institutions and discern them based on their characteristics. 
Research Colleges or Universities  
As the name implies, research colleges are research-focused academic institutes where graduate students, professors, undergraduates, or postdocs carry out findings/inquiries (research) about different topics in different fields of knowledge. Research colleges are the ideal place for developing or discovering new knowledge that is of great help in that field of study. 
These colleges can be privately owned or publicly funded. Balancing studying with other activities is usually possible in a research college; as students have a specific knowledge scope, they always leverage the assistance of other research participants. 
Liberal arts colleges are higher education institutions that focus on undergraduate studies in liberal arts (life sciences, social sciences, arts, and humanities) and sciences. Some of the courses in liberal arts colleges may include:
Sociology

History 

Political science 

Philosophy 

Economics

Human geography, among others. 
These colleges usually have traditional college settings and are great places for bonding. They differ from research universities in numerous ways, and we highlight them below. 
Factors that Differentiate Liberal Arts Colleges and Research Universities 
Research and liberal arts colleges have distinct characteristics, and we differentiate them using these characteristics. They include:
1. Size

 
Every research college usually has a large population of both graduate and undergraduate students, which makes them larger than liberal arts colleges. Liberal arts colleges are usually smaller, and it's easy to always bump into someone you know on campus. 
Unlike research colleges with a mix of graduate and undergraduate students on campus, liberal arts colleges usually have undergraduate students (only a few have graduate programs), which is why they're smaller. 
Liberal arts colleges' small size makes students' satisfaction higher in these colleges compared to research colleges. Students get to know their professors more and get more guidance in Liberal arts colleges. It's the opposite in research universities, where the professor is more focused on research, and they're a larger population of students to address at once. 
2. Teaching Approach 
Research colleges and liberal arts colleges have different learning outcomes, which makes the teaching approach different. Liberal arts schools are focused on general education with no specifications. 
They expose you to different academic fields and focus on developing your critical thinking and writing skills. You won't find professional major degrees like (accounting, plant breeding, and engineering) in Liberal arts colleges. 
Teaching approaches in Research colleges are usually peculiar to your field of knowledge. They usually offer every major you can think of and have different schools for these majors in the institution. Don't be surprised that you can major in the school of liberal arts in a research college if you choose to major in any of the liberal arts. 
Also, another noteworthy difference is that professors mainly teach classes in liberal arts colleges with no assistance from graduate students. While in Research college, you can have professors, graduate students, and undergraduates coming together to take classes.
3. Degree Options 
Generally speaking, Liberal arts colleges only offer Bachelor's degrees. Some have graduate programs, and you can earn a Master's degree. However, at research universities, you can expect to earn an undergraduate Bachelor's degree, Master's, or Doctorate. 
4. Faculty-to-Student Ratio 
This is another common characteristic to discern both academic institutions. Research colleges usually have more students in a faculty. The faculty-to-student ratio in research colleges is smaller than that of liberal arts colleges, where they have more faculty than the student population. The greater faculty-to-student ratio in Liberal arts colleges makes it easy for professors to build a closer relationship with students and help them navigate through each course with proper guidance.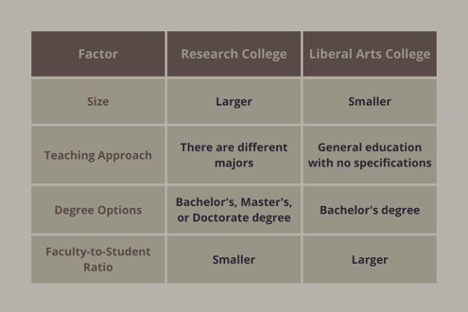 What You Should Consider Before Making A Choice
From the characteristics above, it is clear that the best choice for you might not be for another. Research colleges aren't better than liberal arts colleges, and vice versa. It all comes down to you, what works for you, and what aligns with your career goals. 
Here are things you should consider before choosing between a research college and a liberal art college: 
The career goals you set for yourself and what you hope to achieve in the near future are important factors to consider when choosing the college to advance your studies. Liberal arts colleges usually have limited courses and do not have degrees in professional majors like medicine, accounting, engineering, etc. 
Research colleges have a wide array of majors for you to choose from. If you also hope to attend graduate school after completing your studies, Research colleges may be the best for you. 
Your Personality (Who You Are)
Are you the type that can learn in a large environment, or do you need close supervision to excel? Defining who you are is important as it helps you choose what suits you best.
If you've always dreamed of receiving lectures in a big hall with many people around, you may consider attending a research college. However, if you feel best within a small population, you may consider Liberal arts college. 
If important criteria like who you are and what you want aren't enough as a discerning factor to pick between research colleges and liberal arts colleges, you can bring in your bias. 
This could be proximity to your residence, the possibility of running into old friends, or affinity for a college's scenery, among others. Whichever it is, ensure they're not jeopardizing the essential things to consider. 
Final Words 
Knowing the characteristics of research and liberal arts colleges and considering important factors are essential steps to take before making a choice. Research and liberal arts colleges are academic institutions of distinct purposes and goals, and you should consider these two factors when taking the bold step of getting a degree.
(Visited 144 times, 1 visits today)