| Updated:
The contents of the Difference.guru website, such as text, graphics, images, and other material contained on this site ("Content") are for informational purposes only. The Content is not intended to be a substitute for professional medical or legal advice. Always seek the advice of your doctor with any questions you may have regarding your medical condition. Never disregard professional advice or delay in seeking it because of something you have read on this website!
Dubai, a city synonymous with luxury and ambition, has been a magnet for people worldwide. Its cutting-edge infrastructure and flourishing economy make the real estate market in Dubai an exciting and dynamic subject. Whether you're a novice homebuyer or a seasoned investor, this vibrant city has something to offer everyone. Check out cost of townhouses in Dubai right now! In this article, we'll explore the various property options available in Dubai, from opulent villas to stylish apartments. So, grab your preferred drink, relax, and let's find out what kind of home suits you best in this glittering metropolis.
Dubai's Villas: Indulging in the Ultimate Luxurious Lifestyle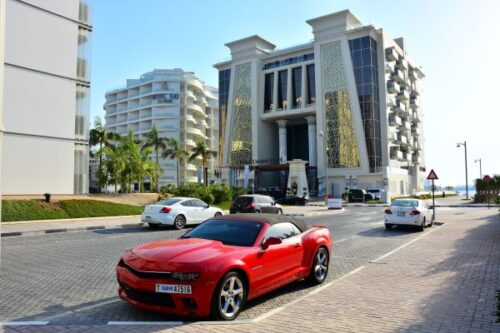 For those who desire an upscale lifestyle, villas in Dubai represent the height of extravagance. These expansive estates are often located in the most desirable neighborhoods, featuring breathtaking views, top-of-the-line amenities, and unmatched privacy. Popular locales for villa living include:
Palm Jumeirah: Famous for its distinct palm-shaped island, Palm Jumeirah is home to an array of high-end villas with captivating views of the Arabian Gulf. This area offers exceptional recreational facilities, upscale shopping centers, and superb dining experiences.
Arabian Ranches: A family-oriented community with spacious villas set amidst verdant surroundings and golf courses. With nearby parks, schools, and healthcare facilities, Arabian Ranches is ideal for those seeking a suburban lifestyle without sacrificing luxury.
Jumeirah Golf Estates: Golf enthusiasts will find Jumeirah Golf Estates to be a dream come true. This exclusive neighborhood features magnificent villas overlooking championship golf courses while providing access to recreational amenities, dining options, and shopping centers.
It's essential to remember that villas generally come with a more substantial price and higher maintenance costs. However, if a luxurious lifestyle and privacy are your priorities, a villa in Dubai is certainly the perfect choice.
Dubai's Apartments: Modern and Convenient Urban Living
Conversely, apartments in Dubai offer contemporary living for those who prefer the convenience of city life. With a wide variety of options, from studios to penthouses, apartments cater to a broader audience. Some of the most sought-after neighborhoods for apartment living include:
Downtown Dubai: The city's epicenter, Downtown Dubai is home to the iconic Burj Khalifa. With an abundance of restaurants, shopping centers, and entertainment venues at your doorstep, this lively neighborhood is perfect for those who love a fast-paced urban environment.
Dubai Marina: The scenic Dubai Marina is a popular location for those who appreciate waterfront living. The area features a range of apartments with stunning views and a dynamic promenade filled with eateries, cafes, and shops.
Jumeirah Beach Residence (JBR): JBR provides a unique beachfront lifestyle, with apartments overlooking the Arabian Gulf and an active beachside promenade. This area is known for its pedestrian-friendly environment and family-centric atmosphere.
Apartments in Dubai usually offer access to shared facilities, such as swimming pools, gyms, and playgrounds. While they may not provide the same level of privacy as villas, apartments are often more affordable and require less maintenance.
Determining the Perfect Home for You
When exploring Dubai's real estate market, the decision between a villa and an apartment ultimately depends on your personal preferences and lifestyle requirements. Here are several factors to consider when making your decision:
Budget: Establish your budget before venturing into the property market. Apartments are generally more budget-friendly than villas, so if you're working with limited funds, an apartment might be your best option. However, if luxury living is your goal and you can afford it, a villa may be the ideal investment.
Lifestyle: Reflect on your lifestyle and the type of environment you want to reside in. If you enjoy a dynamic urban atmosphere and the convenience of having amenities nearby, an apartment in a bustling neighborhood may suit you best. Conversely, if you prefer tranquility, privacy, and a larger living space, a villa in a more peaceful community might be the perfect choice.
Family Needs: If you have a growing family, consider their requirements as well. Villas often provide more space, both indoors and outdoors, making them ideal for families with children or pets. Apartments, on the other hand, are typically better suited for singles or couples without children.
Future Plans: Keep your future plans in mind when deciding between a villa and an apartment. If you intend to settle in Dubai long-term, investing in a villa could be a smart move, as they often appreciate in value over time. If you're unsure about your long-term plans, an apartment may offer more flexibility.
Maintenance and Upkeep: Lastly, consider the time and cost of maintaining your property. Villas usually demand more maintenance, both inside and outside, whereas apartments have shared amenities maintained by building management, saving you time and effort.
Wrap-Up
Dubai's real estate market presents a diverse array of options catering to every taste, budget, and lifestyle. From the luxurious villas in exclusive neighborhoods to the stylish apartments in energetic communities, there's something for everyone in this thriving city. By taking into account factors such as budget, lifestyle, family needs, future plans, and maintenance, you can make an informed decision and find the perfect property that meets your needs. Learn more information to help with your choice at Emirates.Estate. Happy house hunting!
(Visited 36 times, 1 visits today)