| Updated:
The contents of the Difference.guru website, such as text, graphics, images, and other material contained on this site ("Content") are for informational purposes only. The Content is not intended to be a substitute for professional medical or legal advice. Always seek the advice of your doctor with any questions you may have regarding your medical condition. Never disregard professional advice or delay in seeking it because of something you have read on this website!
No one wants to suffer any form of damage to their home or business: it's expensive, time-consuming, and stressful to repair. Unfortunately, both water and fire damage is incredibly common throughout the United States; in fact, over 15 million homes are at risk of flooding, and over 350,000 house fires happen each year. 
However, the restoration process differs slightly between the two types of damage, and it's important to know what to expect should you ever suffer such a tragedy in your own home.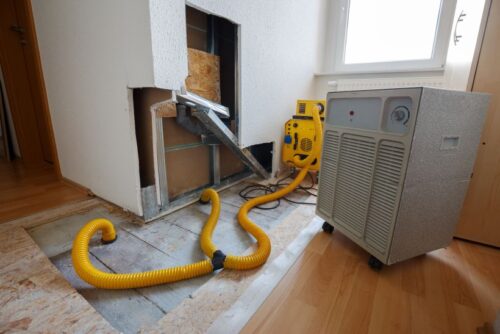 What Is Water Damage Restoration?
Water damage restoration, whether in Franklin, TN, or elsewhere, is the process of repairing issues in the home caused by flooding, burst pipes, sewage backup, a leaky roof, or other potential sources of water intrusion. As contaminated water can include potential health hazards and encourage mold growth, it should always be performed by IICRC-certified restoration technicians who are trained in the safety measures necessary to get the job done correctly.
The process involves extracting water, cleaning up any debris, sanitizing surfaces to prevent mold growth or bacterial overgrowth, and finally, replacing any building materials that have been ruined beyond repair. This may include drywall, carpet and carpet padding, and wood floors, depending on the extent of the damage and how long the water has been there.
Unfortunately, it's not always possible to make a homeowners insurance claim for water damage, depending on the cause of the damage. Unless you have additional flood insurance, you may not be able to receive compensation to cover repairs caused by this issue. 
What is Fire Damage Restoration?
When there's a house fire, you need fire damage restoration to remove harmful pollutants in the air left by smoke residues. Most fires include the burning of chemically-treated surfaces, which can release toxins in the air that lead to respiratory issues, so it's important to have your air quality restored through getting rid of as much smoke and soot as possible. This can include extracting residues that have penetrated deep into surfaces of the home or your belongings. 
Fire damage restoration may also include water damage restoration depending on how the fire was put out, as firefighters will use large amounts of water to put out the fire.
If the fire was unintentional, you are often able to make an insurance claim that will cover all or most of the restoration process. 
How Are They Related?
Both water and fire damage restoration include extracting any water, cleaning and sanitizing all surfaces, and repairing any issues caused by the event that have occurred in the home. You will often have to have structural materials removed that have been compromised by fire or water, including wood cabinets, wall surfaces, and flooring. 
Each of them typically includes some form of water damage restoration, with fire damage involving additional steps to remove smoke and soot from surfaces and materials. Many restoration companies will perform both services as part of their menu of offerings, and most of them will handle any relevant insurance claims for you if you are able to get compensation from your homeowners insurance.
Most pressingly to property owners, they will unfortunately require a disruption to your life for a time, and may require you to temporarily leave your home depending on the extent of the damage. However, a great restoration company will work their hardest to get the job done as quickly and efficiently as possible, as they empathize with how difficult this situation is for you. 
What Are the Differences?
Water damage restoration does not require quite as many steps as fire damage restoration, though both are involved processes that need careful attention. As fire damage often includes water damage, there is the additional need to extract smoke as well as water, which necessitates specialized equipment and removing your belongings to a secure facility. 
Water encourages mold growth, so water damage restoration will require checking carefully for mold and remediating it if necessary. If a fire was put out by chemical sprays like a fire extinguisher, you may not need mold remediation. 
Lastly, you're less likely to be able to make an insurance claim for water damage depending on the source. Flooding is typically not covered by insurance because it's such a common and devastating event, so you would need specialized flood insurance; if you don't have this, you'll have to pay out of pocket. Insurance will usually only cover water damage if it was a sudden and unexpected event not caused by a natural disaster or home repair negligence, like if you realized a pipe was leaking and did nothing about it.
Fire damage is more liberally covered unless it has been revealed that you set the fire on purpose to collect insurance money; firefighters will investigate the cause of the fire and can identify if the damage was intentional.
(Visited 14 times, 1 visits today)