| Updated:
The contents of the Difference.guru website, such as text, graphics, images, and other material contained on this site ("Content") are for informational purposes only. The Content is not intended to be a substitute for professional medical or legal advice. Always seek the advice of your doctor with any questions you may have regarding your medical condition. Never disregard professional advice or delay in seeking it because of something you have read on this website!
Veteran weed smokers and cannabis connoisseurs know that Papaya Cake and Khalifa Kush are two strains with dominant indica genetics; however, there are differences between them. This post highlights the major peculiarities of both strains, so read on if you are curious about this distinction.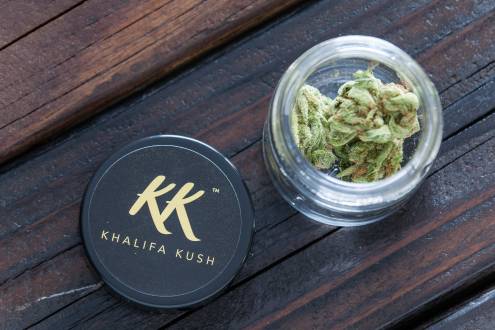 Summary Table
| | |
| --- | --- |
| Papaya Cake | Khalifa Kush |
| Indica-dominant hybrid (80/20) | Indica-dominant hybrid (60/40) |
| THC content – 20.67-24% | THC content – 23.33-25.33% |
| CBD content – 0.54-0.99% | CBD content – 1.38-1.68% |
| Dominant terpene – limonene | Dominant terpene – camphene |
| Main aroma – tropical | Main aroma – lemon |
| Main effects – tingles, relaxation | Main effects – happiness, uplift |
| Main side effect – dry eyes | Main side effect – dry mouth |
Definitions
The Papaya Cake strain is a cannabis hybrid with an indica/sativa ratio of 80/20. As a pretty potent cultivar, it comes with a high THC amount that can reach 24% in some cuts. The CBD content hardly approaches 1%.
The prevailing terpene limonene affects the strain's aroma and flavor chemistry. It delivers a tropical smell and taste with sweet citrus notes that remind users of ripe fruits from hot and sunny tropical islands.
Relaxing and sedating effects are what smokers can expect from Papaya Cake. Happy sensations and tingles around the body are also typical of this cultivar, check flawless CBD for more information.
Due to its calming effects, the strain is widely used for therapeutic purposes and helps eliminate symptoms caused by:
Depression

Stress

Chronic pain

Anxiety

Insomnia

Post-traumatic stress disorder.
It induces hunger in people who suffer from a lack of appetite or nausea.
As a powerful strain, Papaya Cake may cause side effects in sensitive users. The most typical negative reactions consumers may experience are dry eyes, dizziness, and rapid heartbeat.
Named after a famous rapper, the Khalifa Kush strain is a 60/40 indica/sativa mix with a THC level measured at 23-25%, which is quite high. The concentration of CBD can amount to 1.68%.
Camphene is the dominant terpene lab-tested in this weed. It gives the strain a juicy lemon aroma, making the user's mouth water. Pine and earthy undertones are detectable on the exhale.
Due to an almost equal indica/sativa ratio, Khalifa Kush is known for its stimulating effects, making smokers uplifted, happy, creative, and relaxed at the same time. Since this weed improves mood, it is widely used by people who fight mental disorders like depression, stress, and anxiety. Its pain-relieving properties make it helpful for coping with a variety of medical conditions, such as:
Arthritis

Migraine

Chronic pain

Fatigue.
High doses of Khalifa Kush may provoke adverse effects in consumers with low THC tolerance and result in thirst, dry eyes, and dizziness.
Papaya Cake vs Khalifa Kush
So, what is the main difference between two indica-dominant strains like Papaya Cake and Khalifa Kush? Khalifa Kush is more potent; however, both strains are recommended for seasoned smokers who are not new to cannabis consumption. Due to different terpene and cannabinoid compositions, these cultivars produce slightly different effects. The aroma and flavor profiles also differ, but both are delicious and enjoyable.
Growers who want to cultivate these strains in their gardens can anticipate different flowering periods. Easy-to-grow Papaya Cake takes only 53-59 days to flower and 63 days to deliver yields. Khalifa Kush is for more experienced cultivators. Its flowering stage lasts 73-83 days, while the harvest time is 88 days after germination.
Summary
Being more popular among cannabis smokers due to its origin, Khalifa Kush features more reviews and comments left by satisfied consumers. Papaya Cake also has multiple fans, but it is less promoted.
(Visited 166 times, 1 visits today)