| Updated:
Suction vs. Robotic Pool Cleaner: A Comparison
The contents of the Difference.guru website, such as text, graphics, images, and other material contained on this site ("Content") are for informational purposes only. The Content is not intended to be a substitute for professional medical or legal advice. Always seek the advice of your doctor with any questions you may have regarding your medical condition. Never disregard professional advice or delay in seeking it because of something you have read on this website!
Manually cleaning a pool is one of the tasks that no one wants to take. While everybody loves frolicking in the pool, especially during hot summer days, nobody minds cleaning it after. Most users feel that cleaning is difficult and will take so much of their time, which is true.
However, there is a better way to clean your pool. In the past two decades, the emergence of automatic pool cleaners has become evident. Many pool owners now invest in a good pool cleaner brand to help them clean and maintain their pool.
Two types of pool cleaners, the robotic and suction type, have become a household name. But what are the differences between the two? Let's find out.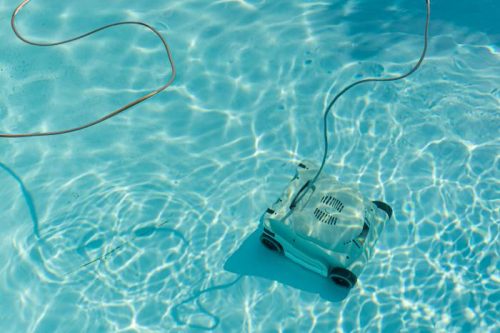 Robotic Pool Cleaner
How It Works
Robotics pool cleaners (RPC) are powered by a motor which enables them to run smoothly without using a big amount of electricity. When the machine sucks the debris, it stores them in a filter bag inside the main body, which can be emptied later on. The motor allows the bot to move fluidly, easily moving around sharp corners.
Since it has its own filter bag, it can operate without turning on the pool filter. This mechanism protects the pool equipment and makes it last longer. RPCs also have many advanced features which make mapping and navigation easier. Some sophisticated models can even climb walls and stairs. In general, pool cleaning robots work great for in-ground and above-ground pools.
Initial Cost Estimate
The average price of a robot pool cleaner is above $500. Some top-tier models can even reach as high as $1000 or more. These expensive bots offer better design and performance, which are missing in low-tier cleaners.
Maintenance
There is nothing much to talk about maintenance. What you only need to do after cleaning is to take it out of the water, remove and wash the filter bag, and not forget to put it back when done. You could consider Watson's pool chemical to sanitize the pull further. You also need to replace the brushes when they wear out.
Lifespan
With proper use and care, this bot can last up to 8 to 10 years if you use it for three cleaning cycles per week.
Advantages
Since the RPC works independently, it doesn't rely on the pre-existing equipment of the pool. Hence, it protects the expensive parts from damage.
Scrubs the surface effectively.
Purifies the water by trapping debris of all sizes.
Moves well on various pool surfaces. Can reach most areas, including walls and stairs for some powerful models.
Fewer maintenance issues.
For energy savings concerns, RPC is the best choice.
Can recover the initial cost since it lasts longer.
Improves water circulation and chemical balance throughout the pool.
Drawbacks
The most expensive among the three pool cleaner types.
Short electric cord. The best length of cable is at least 10′ longer than the pool size.
You have to manually take out the bot from the pool water. The device can be very heavy since it still has water on it, which is inconvenient.
Suction Pool Cleaner
How It Works
Suction pool cleaners (SPC) attach to a suction port on the pool, such as a pool skimmer or filtration system, and clean the pool surface with the suction of the pool filter pump. The cleaner moves by creating water pulses by interrupting the water flow, causing it to gently drift about.
Suction cleaners are great for removing tiny particles that collect at the bottom of the pool. This means that you won't have to scrub the pool top as often. While these cleaners are cost-effective, they depend largely on an existing pool pump and filtration system. Manual control is also required for the hose that connects the cleaner to the pool filter.
Initial Cost Estimate
In general, a suction pool cleaner is cheaper than an RPC. Its price range is anywhere between $200 to $1,000. The motto when it comes to the cost of SPC is the higher the price, the better the quality and performance of the machine.
Maintenance
Once you're done cleaning, just take it out of the water to prevent corrosion. Make sure that it's dry before storing it. Check the product manual to know when you need to replace critical parts. Replacement parts are inexpensive, so upkeep will not thin out your wallet.
Lifespan
Depending on how frequently you use the device and the amount of care you put into it, its lifespan average is about six years.
Advantages
SPC has a powerful suction power to remove pollutants from the water.
Inexpensive repair and replacement cost.
A low upfront cost makes it more affordable for most pool owners.
Works great in all pool sizes.
The hose doesn't tangle, resulting in a smoother operation.
Drawbacks
Aside from the cleaner itself, you also need to turn on the pool pump and filter system. Don't be surprised if you see a slight increase in your energy bill.
Not effective in removing floating debris.
Not powerful enough to climb the wall and stairs. If you target cleaning the waterline, a suction type is not needed.
(Visited 134 times, 1 visits today)