| Updated:
The contents of the Difference.guru website, such as text, graphics, images, and other material contained on this site ("Content") are for informational purposes only. The Content is not intended to be a substitute for professional medical or legal advice. Always seek the advice of your doctor with any questions you may have regarding your medical condition. Never disregard professional advice or delay in seeking it because of something you have read on this website!
While choosing the best e-commerce platform, entrepreneurs or company owners must take a variety of factors into account.
To make such a choice, you must first comprehend the dimensions of your shop, the variety of items you sell, the methods of payment and delivery you accept, as well as the user experience you want your store to provide. Finding the ideal platform is striking a balance between your specific needs as a business owner and those of your clients.
In this post, we'll contrast two popular eCommerce systems with sizable online communities: Shopify and Magento.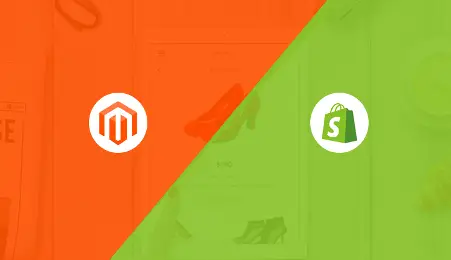 What Exactly Is Magento?
Magento is an open-source, free eCommerce platform with a wide range of customizable possibilities. A single online shop or a sophisticated network of hundreds of businesses may be created using the open-source eCommerce platform Magento. One of Magento's key advantages is its flexibility. Magento's versatility allows you to customize an eCommerce platform to meet your needs.
Magento may expand along with your company, which is a benefit. Due to its ability to handle large levels of traffic and sales, Magento is a fantastic choice for businesses looking to increase their online presence.
What Exactly Is Shopify?
Shopify is a retail e-commerce platform founded in 2006. As Shopify is entirely hosted in the cloud, you can manage your company from anywhere in the globe by logging into the admin interface. While there are numerous pre-made templates available, motivated business owners may personalize their store as they want using Shopify development services or even design it from scratch.
Which Platform Is Better for You: Magento or Shopify?
While both Magento and Shopify provide strong e-commerce solutions, the best platform for your business is ultimately determined by your individual needs and ambitions. Let's analyze the essential features and functionality of each platform to help you decide.
Ease of Usage
Shopify is the superior option if you want an easy-to-use platform that doesn't require technical knowledge. The platform's drag-and-drop interface and user-friendly design make it simple to develop a professional-looking website in a short period of time. Furthermore, Shopify's customer service is superb, with 24/7 support accessible to help consumers troubleshoot difficulties and obtain the assistance they require.
Magento, on the other hand, is more sophisticated and needs a higher level of technical expertise to set up and administer. Nonetheless, because to its comprehensive feature set and adaptability, it is an excellent alternative for enterprises with more sophisticated requirements.
SEO
You'll be able to draw in more paying customers and increase your income if more search engine users visit your website. SEO may be useful in this. Magento excels in this area with a ton of SEO tips and prompts to get you started.
You may modify URLs and image alt tags to make it easier for search engine users to discover your web pages (which tell Google how to categorize a picture on the image search platform).
However, Shopify relies heavily on apps for its SEO. The bulk of your SEO tactics must be discovered in the app store, even if page titles and image alt tags are customizable.
Performance
Magento requires a solid hosting environment because of its resource demands. It is common knowledge that adding product SKUs may put a strain on a retailer's hosting infrastructure. With more than ten years of expertise, Magento offers an efficient caching-based solution to improve site speed.  With the help of your skills as a developer or outsourcing software development with Magento, you can make an e-commerce site of the highest level.
Shopify, on the other hand, is a slim application. It operates quickly in most scenarios since it can handle more product SKUs on hardware that can only support a smaller Magento shop. Yet compared to Shopify, Magento offers more functionality.
Scalability
Both Magento and Shopify are built to manage huge traffic counts, although Magento is often regarded as the more scalable alternative. The platform is designed to support different stores and languages, making it an excellent solution for companies wishing to expand into new regions or extend their online presence.
Shopify, on the other hand, is better suited for smaller firms or those who do not expect rapid expansion in the near future. Although the platform can manage large traffic levels, as the business expands, it may become less efficient, and consumers may need to change to a more costly plan to meet increasing traffic.
Conclusion
Shopify is the superior option if you're a small business or a new entrepreneur seeking an easy-to-use platform with outstanding customer service. Magento, on the other hand, is the way to go if you're a mid-sized to a large firm with more sophisticated demands and want a fully customized, scalable platform.
(Visited 30 times, 1 visits today)