| Updated:
The contents of the Difference.guru website, such as text, graphics, images, and other material contained on this site ("Content") are for informational purposes only. The Content is not intended to be a substitute for professional medical or legal advice. Always seek the advice of your doctor with any questions you may have regarding your medical condition. Never disregard professional advice or delay in seeking it because of something you have read on this website!
Whether you're in the process of setting up a brand new business and are wondering about the communication choices on offer, or run an established company and are considering whether your current network is serving your business's needs as well as it could, deciding on the best option can be tricky.
You've likely heard of VoIP and PBX connections but may be unsure of what, exactly, these options offer and how each works. The guide below summarizes VoIP and PBX, including a look at the pros and cons of each, to help you decide which is the best fit for your unique business – both now and in the future.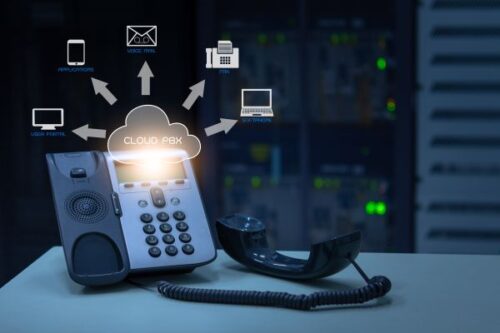 What is VoIP?
VoIP stands for Voice-Over Internet Protocol, and it's a virtual phone system that uses the internet rather than the physical copper wiring of legacy telephone connection systems. VoIP is also known as online calling, virtual telephony, and IP telephony. VoIP uses the internet to both make and receive internal and external calls; VoIP is eminently mobile: small business users can effectively take their phone system with them wherever they go, as long as there's high-quality internet access.
The communication offered by VoIP companies is usually accessible via any device, be it an in-office desktop PC, a home laptop, or a cellphone using a mobile app.
How Does VoIP Work?
When a user initiates a call, their voice audio is broken up into multiple data packets that are sent over the internet. These data packets are scrambled in transit and reassembled in the correct order, ready to be listened to by the recipient.
Pros of VoIP
Calls are often significantly cheaper when using a VoIP connection.

It isn't limited to a single physical location and can be accessed wherever there is a high-quality internet connection available.

Has lots of advanced features and tools, plus additional communication channels.

It can be accessed on a variety of devices.

Requires very little hardware and equipment to set up.

Overall offers a higher call quality than a traditional phone line connection.

VoIP companies usually feature various customizable audio options, such as noise cancellation.

Easy to scale so that it can grow with your business.
Cons of VoIP
Entirely reliant on a fast, high-quality, and reliable internet connection. If the internet goes down, you won't be able to make or receive calls.

As VoIP uses the internet, there is always the chance of a cyber attack. However, most VoIP networks have very high-security standards and deploy an arsenal of tools to keep data safe.

Potential security issues if employees connect to the VoIP over an unsecured wifi connection.
What is PBX?
PBX stands for Private Branch Exchange. It's a premises-based, in-house phone system that uses the traditional Public Switched Telephone Network (PSTN) to make and receive voice calls.
A PBX system works similarly to a landline – however, while landlines are typically used to facilitate calls between two parties, PBX allows large businesses to operate and own a private telephone data network specific to this company. This business phone system is physically located within the premises in which it's used.
Pros of PBX
Connections tend to be highly reliable.

Easy to use, so staff can get up and running with the system quickly.

As PBX uses the copper wiring of the PTSN, the internet is entirely taken out of the equation, meaning there's no risk of hacking or other cyber threats.

A business can customize its PBX network, as it can be designed from the ground up.

Can often access VoIP features via SIP Trunks.
Cons of PBX
High upfront costs and comes with the possibility of maintenance expenses.

Call quality can sometimes be affected by echoing, dropped calls, and the weather.

Not as easy to scale as VoIP – users will usually need to purchase extra hardware to accommodate upgrades.

Limited features compared to VoIP.

Requires physical space to host a server as well as an in-house IT team.

Widely regarded as 'legacy' technology, there's the risk it could be totally out of date within the next five years.
Is VoIP or PBX the Best Choice for My Business?
Unless you run a large corporation that could potentially face significant security issues, then VoIP is likely to be the best choice for your business. According to industry experts, analog phone systems are unlikely to be around much longer, meaning PBX systems could become largely defunct in a matter of years.
VoIP offers many advantages for businesses of all sizes. As well as being generally more cost-effective, VoIP has loads of useful features, such as virtual assistants and video conferencing tools. Its mobility and scalability also make it a great choice and perfect for remote and hybrid teams particularly. If you want, for example, to add a new line, it's usually as simple as making a quick call to your VoIP provider, and it'll all be taken care of remotely, with no need for waiting for a physical installation.
However, it may be worth keeping an eye on new hosted PBX systems, which are a cloud-based version of traditional premises-based PBX, which are beginning to see a rise in popularity…Watch this space!
(Visited 40 times, 1 visits today)